Have You Taken Your Vitamin R Today?
Crucially, vitamins like vitamin C and D are a cornerstone of an optimal diet.
But what about vitamin R? What part does this play in our lives?
I remember vitamin R first being voiced by the late and great Professor Heinz Wolff who suggested to the Edinburgh science festival that there was a "vitamin R deficiency" where R represents risk and that risk-taking was an important ingredient in the development of youth.
It's something I've also seen clinical psychologist, Neil Mapes, talk about in relation to dementia. He was frustrated by the activities offered to people with dementia because they tend to be indoors and usually sedentary. He noticed that all elements of risk are removed from their lives by carers who are obsessed about their safety – a "vitamin R deficiency."
Neil decided to set up the charity Dementia Adventures to address this deficiency by offering outdoor activities all with an element of risk such as hiking in the Lake District, travelling on canal barges, a sailing trip off the Cornish coast, and a white-water rafting.
Taking well-calculated, managed risks can lead to enjoyable experiences for people with dementia and help them retain their independence as much as possible. Positive risk-taking is an approach which focuses on what people can do, not just how they're limited.
The goal is to manage risks in ways which improve the quality of life of a person, to promote their independence or to stop the quality of their life deteriorating.
Positive risk-taking is important for all of us because it stimulates our brain and can increase our energy levels and our self-esteem.
Run Wild
Taking risk doesn't mean playing Russian roulette or throwing a dice a la Luke Rhinehart (real name – George Powers Cockcroft) with 6 outrageous options that would lead to harm.
No, we are talking about fostering positive steps that will take people out of their comfort zones and stifling situations and promoting life experiences, taking steps to connect with nature and making memories.
And for that we have to think and act differently and, as Mapes (2017) says, we have to "think outside". Your outlook is your look out.
It also means what Mike Fairclough talks about in his new book Wild Thing.
Mike is a game changer, a John Haden Badley, a threshold adventurer and magic-weaver. He is also an acclaimed headteacher doing great things in a school with his head, hands and heart in East Sussex.
Going wild is a subject he's touched on before in Playing with Fire, a brilliant book all about embracing risk and danger in schools – probably one of the most risk-averse of all institutions in recent years.
Go Wild
In Wild Thing, Mike argues that reconnecting with the fearlessness and playfulness of our childhood can help us on the path to ultimate happiness and wellbeing.
Although we are hardwired to take risks from birth, many people shed their risk-taking tendencies by the time they reach adulthood and then become 'sensible'.
Being a slipper-wearing sensible soul is a good thing right?
Well, from a DBS criminal record point of view yes but from the POV of adventure, trying new things and ticking things off a bucket list then no it isn't.
We are so sensible, we are boring and it really isn't good for our resilience, outlook or mental mojo.
We all take risks as part of living an active and fulfilling life, don't we? But wait…..
When was the last time you went wild?
No seriously, I don't mean running across fields of wheat like Theresa May or pressing the button at a pedestrian crossing and then running off, I mean when did you just let go and be yourself or lose yourself?
Adults are seldom themselves, especially in the world of work where you have to put a face on and survive the day (pre-COVID anyway).
But there is a place of work when you really can be yourself if you allow yourself to and that's school.
I can't think of a more comfortable environment to just be myself in than at school. Children bring out the best in me, the real me because they aren't playing office politics, they are just playing.
When I say school though, I mean primary school – that's a place where you can really step into the magic. The happiest days of my life have been as a primary teacher because I could be a big kid all week, access flow and superfluidity, enjoy the excitement of childhood and get paid for essentially playing and working. I never did get used to be paid as a teacher – who gets paid for being a kid?! I took the money and laughed.
Primary schools allow adults to be children, to be day-dreaming treasure hunters and the best teachers are just that.
Take a walk on the wild side
Living a good life means going wild and playing.
Playing is "an intrinsic part of being human" (Rosen, 2020), "to play is to be in the world" (Sicart, 2017) and it helps us "survive and thrive" so it's a "unique gift" (Gammage, 2017).
The National Institute for Play says that playing is the gateway to vitality:
It generates optimism, seeks out novelty, makes perseverance fun, leads to mastery, gives the immune system a bounce, fosters empathy and promotes a sense of belonging and community.
If that means jumping out of a helicopter backwards head-first into the North Sea while Ant Middleton shouts abuse at you then great, apply and do that.
If it means going ape and segwaying between the trees, then sign-up.
If it means riding water buffalo bareback then become a primary teacher on the south coast.
If it means going out one day and getting lost, feeling lost and letting your imagination get the better of you then go ahead, get lost and lose yourself in the moment. This is about forgetting time, being alert, alive and receptive.
Mike says,
Embrace the feeling and find the magic within it. Buried treasure is always there for you to discover.
And finding that buried treasure might just involve some scrapes, grazes, falls and panic.
But it doesn't have to mean full-on volcanic adrenaline rushes. It could be climbing a tree, blowing bubbles, learning to juggle, skateboarding or splashing in puddles. It could be playing football with your grown-up mates with your suit jackets for goal-posts and feeling like a kid again. Playing is free and it is freedom (Huizinga, 2016).
It could be just going outside and engaging in a random act of wildness. I mean when was the last time you went for an awe-walk? Have your ever been for an awe-walk?
Being in and around nature is awe-inspiring and this could be something as simple as visiting your local park or nature reserve. Just being there will make a positive impact on your soul and might inspire you to take another step out the next day.
Mike's book is positively playful throughout and offers adults a mystical mirror to take a good hard look at themselves but it's wrapped in kindness and mischief.
He urges us to find our inner child, inner rebel and inner maverick and unchain the spirit of adventure that we all have and not focus on the end result. If it means you end up becoming a professional munro bagger a few years later or a regular wild swimmer then so be it, don't plan it.
But along the way, don't be afraid to break the odd rule here and there and just let go.
Go feral and be a free spirit.
Go hog wild
Mike's new book is all about taking your vitamin R and strengthening your self-development, grit and resilience through joy.
Wild Thing is the sort of book you don't neck and down in one but take in as required to supplement and heal your wellbeing. It is full of honesty, positivity and personal life experiences we can all learn from so we make risk taking one of our 5 a day. It nudges us to get on and do something.
So, go and build a fire, skin a rabbit, cook outdoors and jump on a quadbike to access some euphoric and cosmic states of being, before it's too late. Play releases endorphins, improves brain functionality, stimulates creativity and opens the soul.
Mike teaches us that life isn't about being careless but carefree and to get into that zone we need to reconnect with our younger selves. Emotional growth comes through tapping into our childhood traits and giving them a really big hug. Play doesn't end with childhood because play deprivation can mean we aren't much fun to be around (Yenigun, 2014).
Go on, make it your NY resolution and live your life as an experiment; it really is worth taking the risks. By playing as adults we can explore and enjoy our similarities and differences, lose track of time and enjoy being alive.
Risk and play are essential components of a balanced adulthood. Manage the risk, enjoy the play and be a wild thing.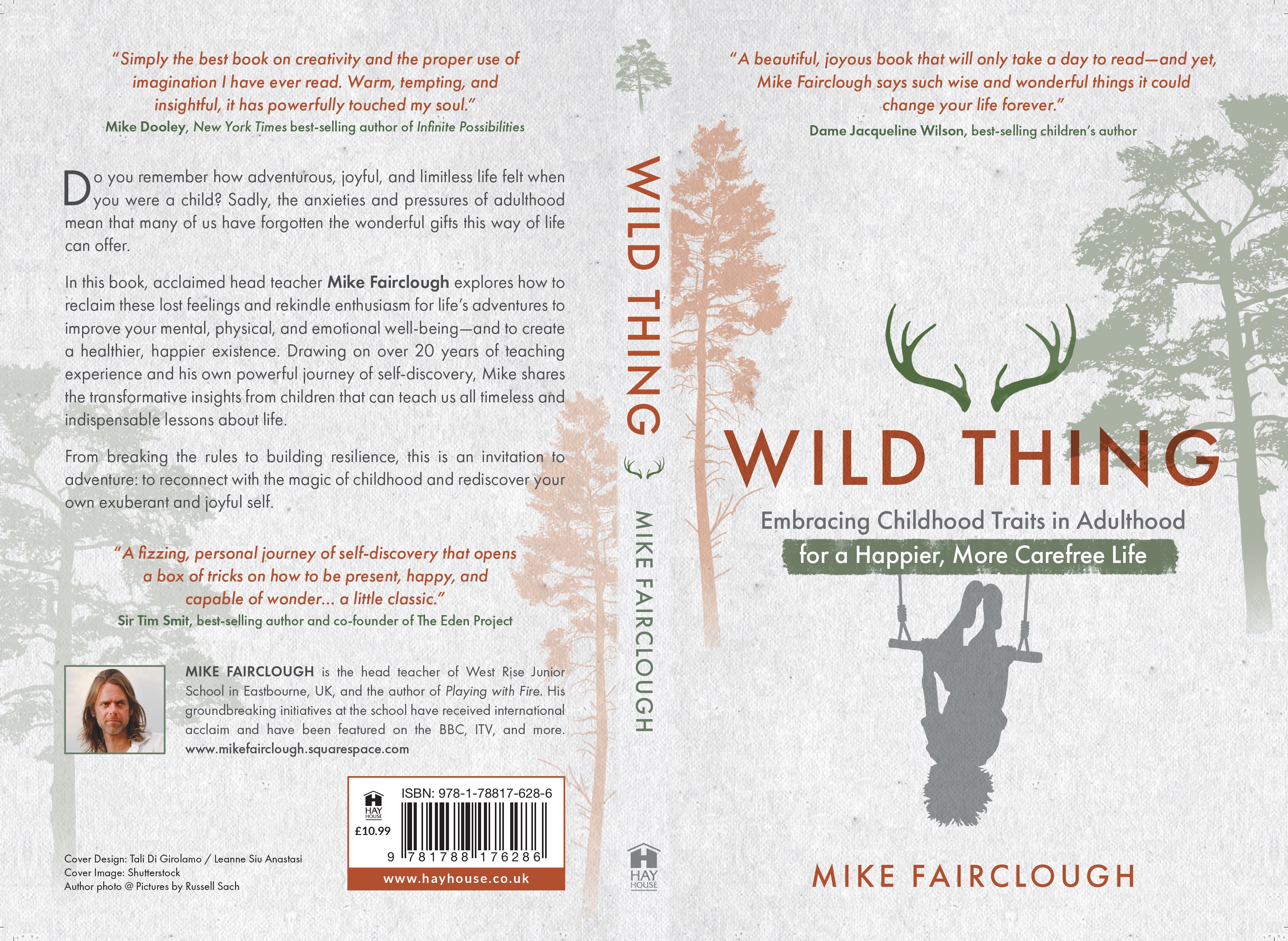 Links
Discover a lust for life at Mike's "Danger School", probably the best in the UK.