The Hollywood Handshake In Class
Unless you are in "close contact cohort" then doing high fives and fist bumps is now out of the question.
Covid-19 has meant that elaborate meet and greets at the classroom threshold have had to stop and quite a few teachers will be relieved about that.
But there is a handshake we can all learn from when it comes to praising students for a particularly impressive piece of work or for high standards achieved and that is the 'Hollywood Handshake'.
This hugely symbolic gesture started off innocently enough when Paul Hollywood shook hands with contestant Ryan in Season 3, Episode 7 of the Great British Bake Off. Paul was impressed with Ryan's sweet dough.
Then Mr Hollywood did it again and a few more times until getting a coveted handshake off him was something every contestant valued more than winning Bake Off itself. This was like getting a baking Bafta and Bake Off once described getting a handshake from Mr Hollywood as being "rarer than a unicorn riding a flying pig".
The power of a Hollywood Handshake on Bake Off is something else – contestants go giddy, they go into denial or they go into a frenzy. They even describe getting one as "surreal".
This is all about hitting high standards and making the grade in the eyes of a real baking expert, "a golden ticket to Bake Off greatness."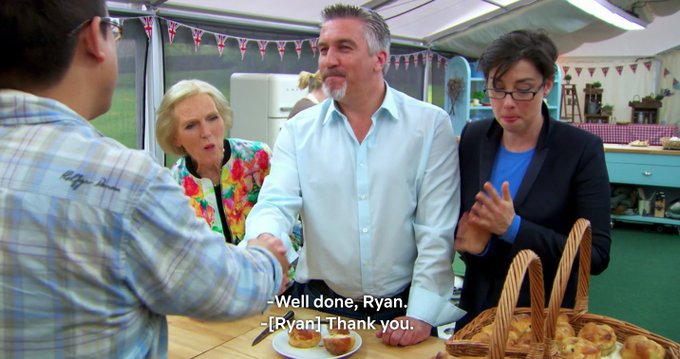 Since then Hollywood Handshakes have been going up and up with every new series mostly because the standards of been getting higher and higher.
For an extra slice of fun, teachers can do the same and give their own Hollywood Handshake for a piece of work or behaviour or whatever you like – something that really impresses and goes above and beyond.
But in the classroom, Hollywood Handshakes should be given sparingly or they will lose their novelty…and their power. As Paul himself would say, "add in too much, and it overwhelms the flavour."
Of course, you don't have to use your real hand but invest in a hand extension, the sort that Richard Ayoade uses on Crystal Maze.
There will come a point when we will be able to use our own Hollywood Handshakes again but until then, use Richard's extension or have a collective round of applause instead.
Oh and remember, when you are giving your feedback, don't forget to throw in this line: "you need just that bit of sharpness, that tartness, to balance it out. But otherwise, good job!"
Getty Images/Ringer illustration