Your Best Day: Sweat, Step, Sleep And Sit
Lockdowns have certainly changed who we are and they have drastically upended how we live, especially children.
Learning at home means that children are glued to their screens from morning until night and this isn't good.
A sedentary lifestyle is nothing new – this has been the way of life for many children before the pandemic.
But COVID-19 has really made prisoners of us all and children are literally cooped up for hours on end.
So what should they be doing?
What we need is a new movement paradigm and I like what I'm seeing from Canada. They have some excellent guidelines that could be applied to other countries and contexts.
The Canadian 24-Hour Movement Guidelines for Children and Youth (ages 5-17 years) are the first evidence-based guidelines to address the whole day.
These guidelines encourage children and young people to "Sweat, Step, Sleep and Sit" the right amounts for a healthy 24 hours.
Children and youth are encouraged to live an active lifestyle with a daily balance of sleep, sedentary behaviours, and physical activities that supports their healthy development.
Now that's different because this emphasises the integration of all movement behaviours occurring over a whole day.
These are The Four S's of Healthy Childhood Movement.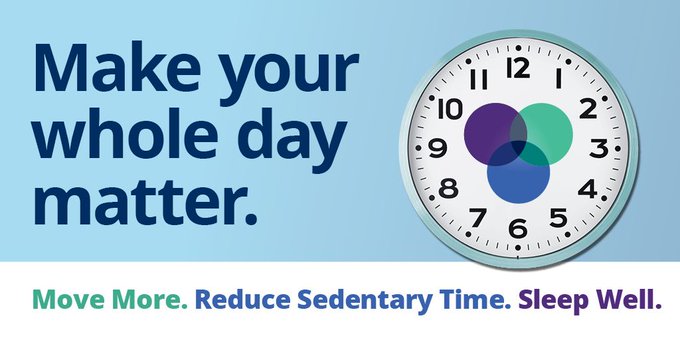 The guidelines recommend that a healthy 24 hours includes:
SWEAT
Moderate to Vigorous Physical Activity
An accumulation of at least 60 minutes per day of moderate to vigorous physical activity involving a variety of aerobic activities. Vigorous physical activities, and muscle and bone strengthening activities should each be incorporated at least 3 days per week;
STEP
Light physical activity
Several hours of a variety of structured and unstructured light physical activities;
SLEEP
Uninterrupted 9 to 11 hours of sleep per night for those aged 5–13 years and 8 to 10 hours per night for those aged 14–17 years, with consistent bed and wake-up times;
SIT
Sedentary behaviour
No more than 2 hours per day of recreational screen time; Limited sitting for extended periods.
Preserving sufficient sleep, trading indoor time for outdoor time, and replacing sedentary behaviours and light physical activity with additional moderate to vigorous physical activity can provide greater health benefits.
Now these are big asks.
A new study by Pearson et al suggests only 9.7% of 14-year-olds in the UK manage to spend an hour a day doing moderate to vigorous exercise, no more than two hours a day in front of a screen, and get at least eight hours' sleep a night.
They demand some real big efforts and some significant changes but they are purposefully challenging as the only way to make progress is through a push to achieve balance.
To do this, the children are encouraged to 'build their best day' by exploring a new interactive web experience. This them imagine a day where they can do anything they want, all the while learning about the Canadian 24-Hour Movement Guidelines for Children and Youth in a fun way.
Following these guidelines is linked to:
• Improvements in academic achievement and cognition
• Students displaying better emotional regulation and prosocial behaviours
• Increases to cardiovascular and metabolic health, and overall quality of life
Health benefits include improved fitness and overall health, maintaining a healthy body weight, growing stronger, feeling happier and learning new skills.
Links
The Canadian Society for Exercise Physiology (CSEP) is a national voluntary organization composed of professionals interested and involved in the scientific study of exercise physiology, exercise biochemistry, fitness, and health. They are recognised for their Gold Standard in exercise science and personal training.
Other guidelines are available for different age groups.
Want to be an active champion? Take a look at participaction @participACTION
Physical activity: Guidelines for children and teens