Comics for children have pretty much died a death these days but they used to be incredibly popular and very often split into those for boys and girls.
From 1919 to 1929, 'The School Friend' was published by Amalgamated Press as a story paper for girls – it was then renamed The Schoolgirl, and plodded along until 1940.
School Friend was then revived as a comic in 1950, publishing comic strips and prose stories. It ran until 1965, when it was merged into June, becoming June & School Friend.
"School Friend" was based on the adventures of pupils in a girls' boarding school called Cliff House, and featured such characters as Barbara Redfern, Mabel Lyon, Jemima Carstairs – who wore a monocle and had an Eton crop. It was aimed at an actual or aspiring middle and upper middle class audience.
It also featured an American called Leila Carroll: her favourite phrases were "Gee whiz" and "Whoopee"!
Another pupil at Cliff House was Bessie Bunter, sister of Billy Bunter who appeared in the popular boys' comic, "The Magnet".
The first girls' comic to be published after the war, The School Friend was printing a very healthy 1 million copies per week.
Although the stories featured scenarios that most children wouldn't have participated in the 1950s (horse riding, ballet, skiing in the Alps) there was an interesting message being spelled out: in a school environment devoid of males, females were able to assert themselves and reach their full potential.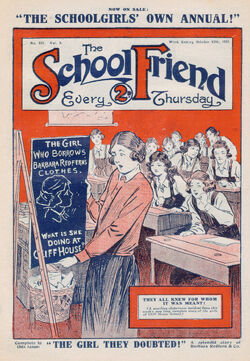 What equivalents are there today?